TINA GLASIER
CONTACT INFORMATION
---
HomeLife Benchmark Realty
Phone -
604-512-3333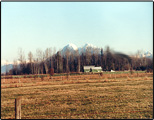 This is country living at its best: Abbotsford (pop.: approx. 135,000) is one of the most productive agricultural areas in Canada.
The Abbotsford Airshow held every other year and the Tradex convention centre, is the second largest in the province and has attracted a thriving aviation industry.
Most residential areas have splendid views of Washington State's Mt. Baker, to the southeast.

Click here to see Commuter times